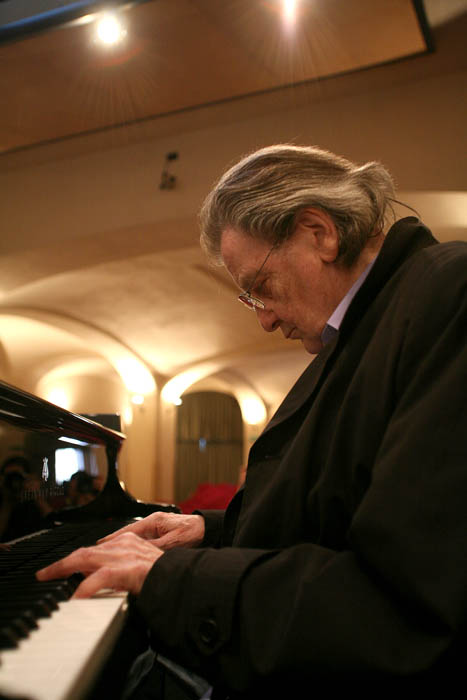 Resteamed Records was formed in 2007 to release recordings exclusively by the late, great Stan Tracey, CBE.
You have chosen a very opportune moment to come and visit our web site because we are having a grand sale! The sale will last until we have some more space in our stock room, so please feel free to take advantage of the huge discounts we are giving whilst the sale lasts.
We are not only focussed on reissues from Stan's back catalogue but are also looking across Stan's extensive archive to devise a programme of releases of hard-to-find and previously unissued recordings. We have new copies of vinyl recordings from the original label set up by Stan and Jackie Tracey in the 1970s on offer. MP3s will shortly be available for download too.
We also incorporate TenToTen Records , an independent label set up by Clark Tracey to promote a range of different groups, as well as his own projects.
Look out for new features coming soon in our online store as we make printed sheet music of Stan Tracey's charts available together with other merchandise.
Recent Releases:
Following on from last year's releases "The 1959 Sessions" , "From Stan, With Love" and "Wisdom In The Wings", we are pleased to announce that our brand new CD release "Stan Tracey In Hamburg" is now available. The price is £12.99 (plus P&P). Up to three CDs can be mailed together in the UK for just £2.75.
Available to pr-order is our newly released vinyl of Stan's 'Under Milk Wood' suite. We are shipping them in May, and you are able to place your orders now for £25 + £4.95 P&P.
Full shipping costs are shown below.
Shipping is calculated at the checkout. Standard Royal Mail delivery is available to UK addresses at £2.75 for up to 3 CDs. If your order contains vinyl or sheet music, that cost is £4.95. For additional items, 25p will be added for each CD and 50p for each LP/Sheet Music item.
For orders to the rest of Europe (excluding Russia), the shipping charge is £7 for the first CD or £8 for the first LP. Subsequent items cost £1 per CD and £2 per LP, up to 8 items.
For orders to the rest of the world, the shipping charge is £8 for the first CD or £12 for the first LP. Subsequent items cost £1 per CD and £2 per LP, up to 8 items.